Our Governors
GEMS Education implemented a Local Governing Body in each of its schools to enhance strategic leadership and accountability with authentic market insight to ensure we are preparing students for 21st Century success. Comprised of representatives from the business sector and other community organizations, Local Governing Bodies provide constructive support and challenge to school leaders to enable them to do the job to the best of their ability.
We are proud to have the LAB members who joined us for the past three years, and we would like to welcome all the new members who joined us for next academic year.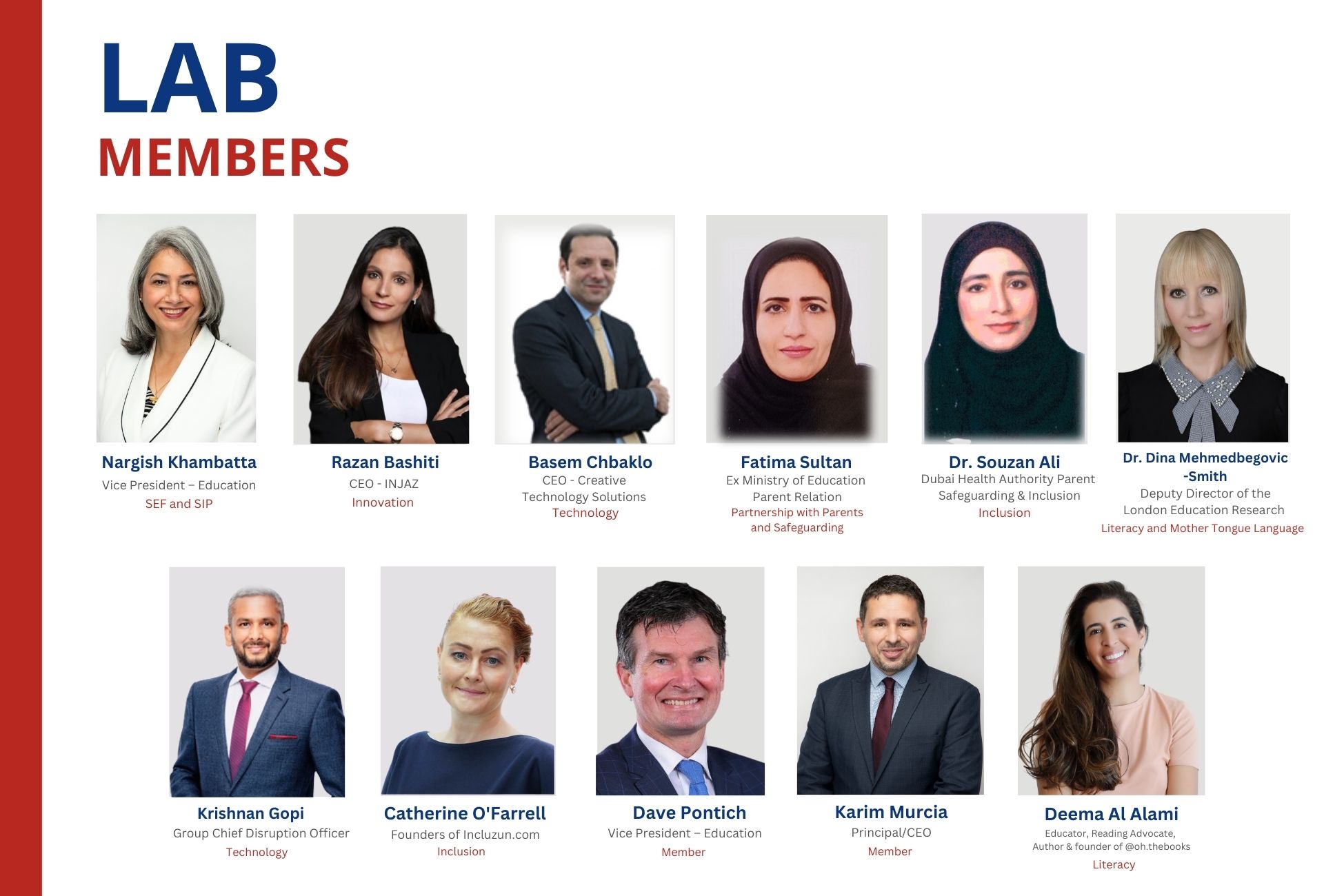 Basem Chbaklo
Basem Chbaklo is the CEO of Creative Technology Solutions which focuses exclusively on helping schools use technology to improve teaching and learning outcomes. He has been in the technology industry since 1993 and over the span of 27 years, he has held various leadership roles with companies in Lebanon, the USA, UAE, Kuwait, Bahrain, Qatar, and Saudi Arabia.
Basem holds a Bachelor's Degree in Computer Engineering from the American University of Beirut, an MA in Management from the Lebanese American University, and an MBA in Strategic Management from the Wharton Business School.
Dr. Dina Mehmedbegovic-Smith
Dr. Dina Mehmedbegovic-Smith is a lecturer on a range of UCL Institute of Education (IOE) courses at PGCE, MA, and doctoral levels. Her previous roles also include Deputy Director of the London Education Research Unit (2009-11) and the editor of the IOE publication the London Digest, with the brief of generating and sharing knowledge on key education issues in London and global cities. Her research focuses on attitudes to bilingualism/multilingualism, minority languages, and positioning of languages in relation to domination, political power, and language disappearance.
She is currently developing interdisciplinary work with colleagues from neuroscience aimed at providing a broader evidence base for advocating the cognitive benefits of bilingualism in education and life-long learning. Her concept Healthy Linguistic Diet http://healthylinguisticdiet.com/ is an innovative approach to language learning and has been endorsed by the EU Commission in their report: Rethinking Language Education and Linguistic Diversity in Schools, 2018, as a part of the EU Language policy review. Dina is also a registered EU expert on multilingualism. As of 2021, Dina is also a trustee for Keys https://keysjo.com/,Keys aims to transform the Arab world by providing social investment opportunities and creative and innovative solutions to end poverty in all its forms through equipping the people in need with the skills and tools to become productive citizens.
Dr. Souzan Ali
Dr. Souzan Ali working with Dubai Health Authority since 1990, she was involved in many departments including Dubai Hospital Quality and Accreditation Officer, Transition Programme Change Management & Measurement Lead, Health Regulation Department Customer Care office, Health Regulation Department, Latifa Women & Children Hospital Consultant – Quality & Development Office.
Worked in DEWA as well as Strategy & Business Development Dy. Manager- Corporate Partnership and Strategy & Business Development Dy. Manager-Performance Management. Currently, Dr. Souzan is a Consultant in Public Health and Protection Department.
Souzan is a mother blessed with a seven-year-old boy with AUTISM since Nov. 2016. She has been actively engaged in all issues related to People of Determination, which makes her confident that she is the best candidate to be part of LAB Team.
Ms. Fatima Muhammad Sultan
Ms. Fatima Muhammad Sultan has a bachelor's degree in Public Administration, Educational Support, United Arab Emirates University. She was the Head of Competitions and External Participation Department in the Ministry of Education. She is a volunteer now and takes part of many social activities.
She believes that every person can do a positive change in life.
Karim Murcia
Karim Murcia is the Principal/CEO of GEMS Al Barsha National School, an all-through school providing a first-class British education rooted in the values and culture of the UAE. Previously he was the founding Principal of Eden Girls' School, Slough, which he led from its opening in 2015.
Under his leadership the school was judged as outstanding by Ofsted in May 2018. In their report, inspectors praised the school's 'vibrant and inspiring learning community' built upon 'strong relationships with pupils and families.' The report also recognized the exceptional achievement of pupils who 'attain highly and make extremely strong progress. After graduating from University College London with a First-Class Degree in French and Arabic, Karim began his teaching career in an outstanding school in the North of London.
He gained his master's degree in Teaching from the Institute of Education and continued his career as Head of Modern Foreign Languages and Senior Leader before becoming Deputy Principal of the newly opened Oasis Academy Enfield in London. Here, Karim was responsible for developing the school's innovative academic curriculum and opening its highly successful sixth form. During this time, the school was judged as good with outstanding features by Ofsted and secured consistently high standards in its GCSE and A Level result.
Throughout his career, Karim has gained significant experience of primary school leadership through his close collaboration with the outstanding primary schools from the Trust in which he worked from 2015 and as the Chair of Governors of a school in Hertfordshire between 2006 and 2010. He has also delivered nationally accredited leadership training programmes on behalf of the Institute of Education and STAR Academies for senior leaders and Principals across both primary and secondary phases.
Krishnan Gopi
Krishnan Gopi is a business-savvy Technologist with more than two decades of international experience and proven track record of spearheading Technology led Business Transformation Strategy & Execution for Fortune 100 companies. He is passionate about disrupting organizations from within; leading Business Turn-around strategies & Technology leap-frogging journeys while being bullish on leveraging DIGITAL as a Game-Changer, Business Enabler & Competitive Advantage.
As the Group Chief Disruption Officer at GEMS Education, he is leading the charge in creating efficient, sustainable, scalable and future-ready technology capabilities for the education needs of today and tomorrow. He was named as "Digital Disruptive Leader of the Year" by MIT Sloan/ Khaleej Times at DIGITRANS 2019 and 2018, received DX Inspire Award for Top 15 Transformation Leaders across industries by Global CIO Forum 2020 and has been voted as "Digital Disruptor of the Year" at CDO Conclave 2018 in addition to numerous other honors and awards.
Nargish Khambatta
Nargish Khambatta, Principal and CEO of GEMS Modern Academy and Vice President – GEMS Education, is the recipient of the first ever GEMS Exceptional Head of School Award 2018. With a Masters' Degree in Microbiology, she made the transition from teaching to educational leadership having spent over 32 years in the field of education. An avid proponent of positive psychology in education, she has been a panelist and presenter at 4 international iPEN Conferences in USA, China and Australia Prior to joining GEMS Modern Academy in December 2009, she has worked at elite educational institutions as well as large public schools and has spent meaningful years at The Doon School, Dehra Dun, The Indian School, Muscat and Sophia College, Mumbai.
Mrs. Khambatta was the Convener of the three CISCE (affiliated to the Council for the Indian School Certificate Examinations, New Delhi) Schools in Dubai from April 2014 to March 2018. An adventure enthusiast, she accompanied a group of 10 students including an Emirati, to Antarctica as part of Sir Robert Swan's expedition in 2014.
A passionate educator, her simple educational philosophy is - All children deserve to be given ample opportunity to discover their worth, their interests and their passion in a secure and happy environment, for them to grow into confident young adults with a sound intellectual and moral compass to guide them to their goals.
Razan Bashiti
Razan Bashitibrings fifteen years of experience in strategy and business planning to INJAZ UAE, seven of those years were spent within the education sector leading initiatives for online learning, training, and content development. As a CEO, she provides leadership for all INJAZ UAE's initiatives. The INJAZ UAE team works with students to implement programs in middle schools, high schools, and universities, and help prepare youth in the UAE for success in the global economy as young entrepreneurs in the country. In her most recent position with INJAZ UAE, Razan devised monitoring and evaluation tools for reporting on the operation team's performance and assisted in formalizing INJAZ UAE relationships with educators and other stakeholders. Razan attended university at Goldey-Beacom College in the U.S.
Catherine O'Farrell
Catherine O'Farrell is one of the founders of Incluzun.com, an organization supporting people of determination in a holistic way across the MENA region. Catherine has been working in education and inclusion for almost 20 years, she has degrees in Education, Psychology and a master's in engineering. She is passionate about developing opportunities for children with individual needs. She has been a Group Head for some of the region's largest educational providers and has worked with international and national committees from the Global Sustainability Network to the Ministry of Education here in the UAE to push for a more sustainable and inclusive world. Catherine is a regular media contributor and conference speaker.
Deema Al Alami
Deema Al Alami's mission is to turn every family into a 'reading family'! She does so by recommending the best children's books (English & Arabic) on her Instagram pages @deema_al_alami and @oh.thebooks, sharing literacy tips & tricks, and conducting workshops of parents/caregivers and teachers on how to best nurture readers. She also co-authored two best-selling children's books, the latest is the first ever Arabic children's books about body safety "هذا جسمي لا تلمسني" for 0–6-year-olds. She also co-founded #AlalamiBookClub with over 750 members to encourage adults to read to for pleasure. She has been working in the field of education for over 16 years and has an MA in Education from King's College London and a BA in Elementary Education from the American University of Beirut. She started her career as a classroom teacher in Languages, Art, and Science and has also spent significant time in leadership positions working on national and regional education-related capacity-building programs in both the private and public sectors. She has led some of the largest Education Reform projects in the MENA region for renowned agencies including the United States Agency for International Development (USAID) and Ministries of Education across the Arab region.