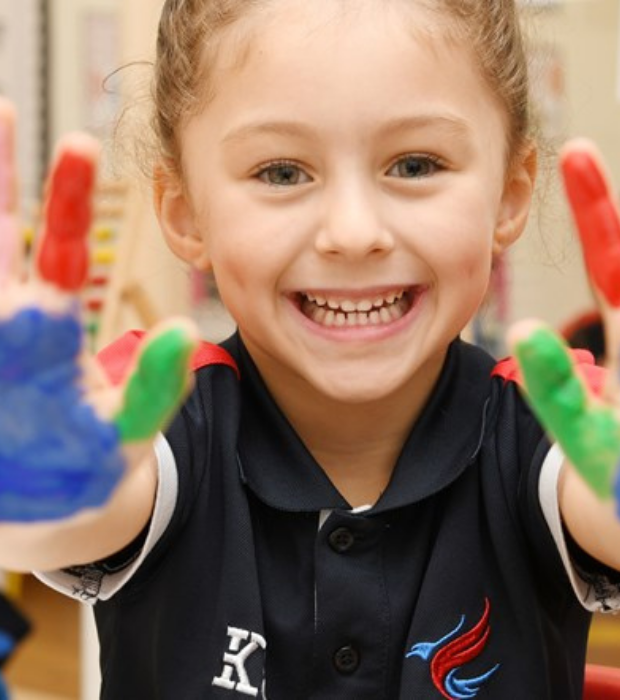 KG1 and KG2 Learning Model
KG1 and KG2 students will be coming to school every day and as stipulated by the KHDA guidelines , there will be 10 students per classroom. Classrooms will be a little different this year, but will still be meaningful and fun . For the safety of our students , clear shields have been placed on the tables, carpets have been removed and anything made of fabric or paper is not allowed.
All students will be screened every morning to measure their temperature before they reach their classrooms. Hand sanitizers have been placed in every class and teachers will be reminding students to sanitize their hands. Children below 6 are not required to wear face masks, however they are welcome to if parent feel better. Only one parent is allowed to drop off their child in the school and cannot be inside school premises for more than 10 minutes. The first lesson will start at 8:30am to allow ample time for procedures, and end at 12:00pm.
Students will have one cubby and their stationary will be placed in these cubbies. Teachers will work hard to ensure that resources are evenly distributed to avoid sharing. In Kindergarten, it is important for children to draw, form and write, therefore our Kindergarten children will have their reflection books in their designated cubbies to use when writing is needed. Our wonderful and knowledgeable Teacher Assistants will be assisting teachers. As always , they will work closely with some groups in class. All our TA's have taken part in the Professional Development training offered in school and outside, as well as the Jolly Phonics training. They are an integral part of the support system for teaching and learning.
The well-being of our students will not be compromised. Despite the new normal, teachers will be working together to ensure that the well-being of each individual child is being catered to. Every stare, every blank and every smile will be observed to ensure the child feels happy and safe in his/her classroom. Our Kindergarten team work closely with parents where there will be constant communication for the benefit and progress of all students.
A paid Extended Care Program is available to students who have siblings in other grade levels with a weekly program. These children will be joining other children from the same year group in a room with capacity of 10 students.
We understand that some children will be staying home and choosing Remote Learning. We will support our parents in whatever option they prefer and provide high quality learning that keeps student engaged. Online learning may seem impossible for a Kindergarten student yet with the right communication, engagement and planning, it can be done!