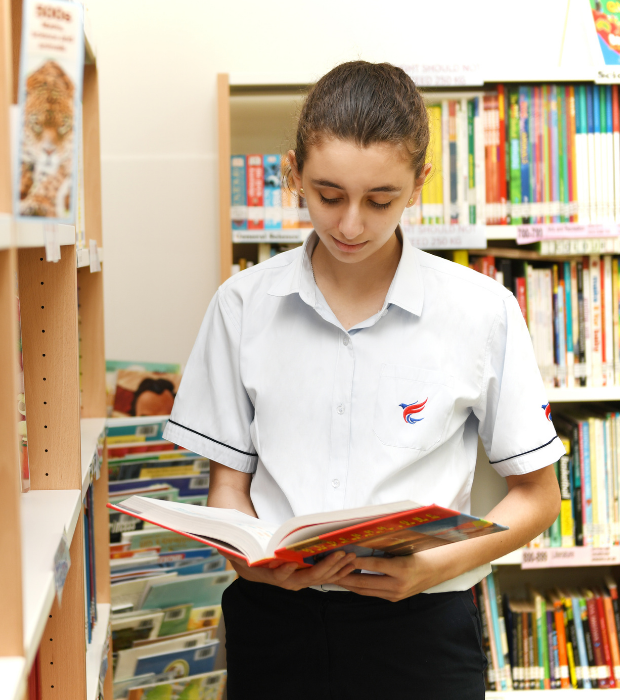 Admission Process
Admissions Process
How to begin your child's journey
GEMS Al Khaleej International School (AKIS), follow the US Curriculum and endeavors to prepare your children from Pre-KG to Grade 12 (Male and Female students are segregated starting Grade 5) for US education in the future. In order to achieve this, we wish for children to be placed appropriately in the correct year group.
Admission Age
Students must have turned the following ages as of August 31. Applicable for all new Pre-KG – Grade 1 students enrolling from September 2023:
| | |
| --- | --- |
| 3 Years old | PRE-KG |
| 4 Years old | KG1 |
| 5 Years old | KG2 |
For New Students
STEP 1 – ONLINE APPLICATION
Click here to complete the Online Student Enquiry & Registration. Once you complete the form, you will receive an acknowledgement with an online reference number and advice on the following steps.
STEP 2 – REGISTRATION
Parents should pay Application Fee of AED 525/- (including VAT) online or at the school cash counter.
This fee is:
Non-refundable but Transferable if the student chooses any other GEMS school

Not deductible from the total tuition fees to be paid if the student is offered and accepts a place.



Parents are required to submit the listed documents to complete the application. Please note you are requested to upload the documents online.

Note:

Payment of the Application fee does not guarantee your child a place at the school. Your application will only be completed once we have received all documentation and the required payment.
STEP 3 - ASSESSMENT
Your child will be invited by the School Registrar for an assessment or for an interview (when appropriate and if necessary) via email notification or phone.

Results will be notified via email or by phone.
STEP 4 – ENROLMENT
Registrar will be sending offer letters to successful applicants, subject to seat availability.
STEP 5 – Registration Deposit
This deposit is payable after the student has been offered a place and parents have accepted the offer. The registration deposit is 10% of the total tuition fees and is deductible from the total tuition fees for the academic year. Please note, this is a non-refundable deposit.

Once the above process is completed student is officially enrolled.

Parents will be notified via email the schedule of tuition fee payment, by the Finance department.
Required Documents:
Student and parents' passport copy, visa and Emirates ID.
Birth Certificate
Attested Transfer Certificate
Vaccination / Immunization Record
Student and parents' passport size photo (for school ID Card)
School report / Transcript for the past 2 years and any other reports (e.g. IEP, medical, therapy reports – if any)
Completed the AKIS Medical Information Form.
Transcript request form G 9-12/ Statement of Numbers of Hours and courses taken from G9-12
Transfer Certificate Guidelines:
Transfer certificate must be on official school letterhead and must contain the below information.
Full name of student

Date of birth

Enrolment date and the year group when the child first started at the current school

(i) Present class

(ii) Year/Grade completed

(iii) Year/Grade promoted to

School curriculum

Principal signature and school stamp
If transferred from a school within the GCC (GCC Countries- Saudi Arabia, Kuwait, Bahrain, Qatar, Oman) or from another UAE Emirate, transfer certificate must be attested by the Ministry of Education.
Children coming from countries other than USA, Australia, Canada, Western Europe, Japan and New Zealand should have the original Transfer Certificate (TC) attested by:
Educational Authorities (from country of TC origin),

Ministry of Foreign Affairs (from country of TC origin)

UAE Embassy (from country of TC origin).
School Registration Team:
Email: [email protected]
Tel: +971 4 2173804/805