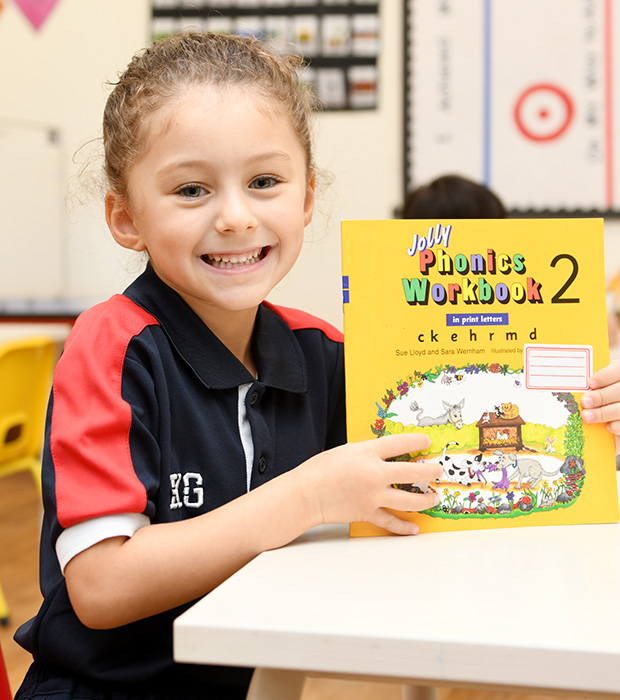 The Primary - Elementary School Program
KG - Grade 5
The Elementary School program at GEMS AKNS is offered from Kindergarten to Grade 5 for students from 4 to 11 years. Students grow and develop in an environment which encourages them to learn a variety of skills both academically and socially. Our approach is completely child-centered and the curriculum is planned in a way that enables children of various abilities to learn as a group, as well as individually.
Our Kindergarten program includes songs, rhymes, art and craft, pictures and stories to enable students to learn new skills such as phonics, numbers and conversation. We focus on an activity-based approach where learning and social development through field trips and structured games form an integral part of the curriculum.
From Grades 1 to 5 the students build on their foundations in reading, writing, Mathematics, Science, ICT and a structured Physical Education program. The students in the Elementary Department are encouraged to develop the skills and abilities that they need to interact and integrate effectively in today's world.
A child's progress is of greatest importance and every support is given to help children achieve their full potential. At the completion of Grade 5, apart from developing skills in reading, writing, Science, Mathematics and ICT, students will also have developed an appreciation for their culture and community, an understanding outlook towards fellow human beings and love for the world in which they live.
Primary - Elementary School

The Elementary School program at GEMS AKIS is offered from Kindergarten to Grade 5 for students from 4 to 11 years.

Middle School

The Middle School Program consolidates and reinforces the educational foundations established in the Elementary School.

High School

During the GEMS AKIS High School program students are motivated to make a difference.