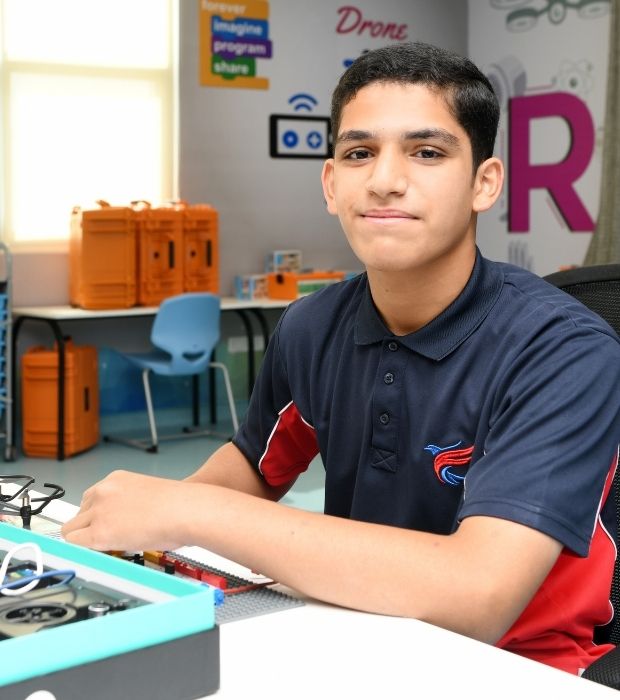 Vision, Mission & Objective
Vision, Mission & Objectives
Vision Statement
To be one of the finest US curriculum schools in Dubai in terms of the quality of teaching and learning and students' character.
Mission Statement
GEMS AKIS aims to develop principled leaders who are caring, responsible, respectful, reflective, global citizens and independent learners.
GEMS AKIS develops international minded students while instilling and preserving the Emirati cultural identity and beliefs by taking pride in their cultural heritage yet respecting diversity.
To this end, GEMS AKIS is setting high expectations by aligning instructional practices to international standards and hiring qualified educators that can deliver the innovative curriculum that promotes 21st century learning skills.
School Goals and Objectives:
Goal I: Development of students as principled Leaders - understanding values and international mindedness
Objectives: GEMS AKIS students will:
Embrace the positive characteristics of the "Six Pillars of Character Education" and will be able to translate and demonstrate these in their daily practices.

Appreciate the values of Islam in UAE society and demonstrate respect for the heritage of the Emirati culture.

Demonstrate a clear understanding, awareness and appreciation of their own and other world cultures.

Actively practice and participate in community programs promoting conservation of natural resources and sustainability.

Make social contributions that have positive effects on the school and wider community.



Goal II: Independent Learners: Acquisition of knowledge and mastery of skills
Objectives: GEMS AKIS students will:
Demonstrate solid knowledge in each and every subject that exceeds curriculum expectations.

Demonstrate 21st century learning and life skills including: presentation, communication, ICT, creativity, and critical thinking.

Take responsibility for their own learning to reach his or her academic potential through inquiry, research, collaboration, enterprise and innovation.

Establish and achieve personal and academic goals.
Goal III: Provision of a high quality and comprehensive instructional program
Objectives: GEMS AKIS will:
Set high expectations for all students and staff throughout instruction.

Ensure that the staff, students and parents are all engaged in the process of learning and are effective partners.

Ensure the provision of appropriate resources including highly effective and diverse educators who will efficiently employ an international educational system.

Provide GEMS AKIS staff with ample opportunities for continuous professional development throughout the academic year.