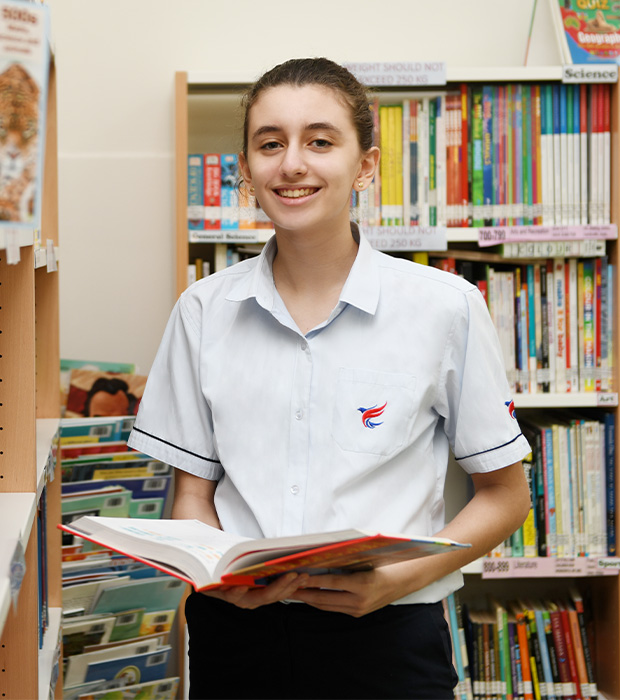 High School Program
Grade 9 to 12
During the GEMS AKNS High School program students are motivated to make a difference; to learn how they can affect real change across the community, the nation, and the planet. We mold young people who are ready to take the lead, to take advantage of the breadth and depth of opportunities that we offer.
We promote an atmosphere that fosters creativity, self-reliance, and academic success, with students graduating with a High School Diploma upon satisfactory completion of a specific number of courses. Students are usually graded from A to F in each course they take on the basis of performance in tests given at intervals throughout the year, participation in class discussions, and completion of written and oral assignments and end-of-the year examinations.
High School Credit System
To earn a High School Diploma, two terms each year for four years of full-time attendance are required. As per the American system, students complete their High School Diploma when they have accumulated a pre-designated number of credits. This credit system gives students ownership of their course of studies, and prepares them for choosing a suitable path for their degree when attending university. Just as importantly, it also allows them to choose the subjects they enjoy studying, dropping the ones they have little interest in.
Regular attendance and consistent completion of homework, tests, and other assigned course work is essential for a high level of achievement.
To be eligible for graduation from GEMS Al Khaleej International School, a minimum of 22 credits must be earned. Main subjects and their minimum required credits are shown in the table below.
Grading System
Grade points earned at GEMS AKNS are based on a system of continual assessment, assigning grades for each course taken. We want our students to enjoy their childhood to the full and to have developed and pursued passions, both academic and extra-curricular, because almost everything a student does will influence the final grade. This includes examinations and tests, essays and written assignments, laboratory work and reports, class attendance and class participation.
Universities, colleges and other institutions value grades over all else, particularly in the USA, and will frequently specify minimum GPAs of grade point averages to gain admission.
| | | |
| --- | --- | --- |
| Academic Standing | GPA | Percentage Average |
| Excellent | 3.67 - 4.00 | 84 - 100 |
| Very Good | 2.67 - 3.66 | 76 - <84 |
| Good | 2.00 - 2.66 | 68 - <76 |
| Satisfactory | 1.67 - 1.99 | 60 - <68 |
* Each student completes the semester with a GPA, which is calculated to represent numerically a student's quality of performance.A cumulative grade point average is calculated at the end of each year and helps tertiary providers compare a student's results with those of other students.
Primary - Elementary School

The Elementary School program at GEMS AKIS is offered from Kindergarten to Grade 5 for students from 4 to 11 years.

Middle School

The Middle School Program consolidates and reinforces the educational foundations established in the Elementary School.

High School

During the GEMS AKIS High School program students are motivated to make a difference.