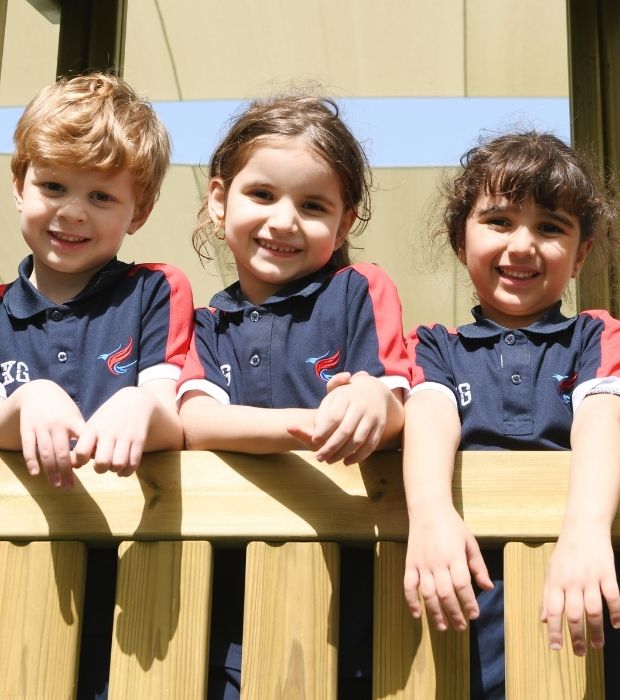 Age Requirements and Grade Placement
GEMS Al Khaleej International School follows the KHDA age requirement for students entering KG1 - Grade 1*. A student must be 4 years of age by August 31st of the academic year to be eligible for our KG1 program. All other students must have turned the age listed next to the grade level for the Academic Year and have a corresponding Transfer Certificate. please refer to the table below as a guideline for which grade to apply to. Further clarification will be done by the Admissions team, and educational governing body.
*Applicable for all new KG – Grade 1 students enrolling from September 2021.
STUDENTS AGE CRITERIA FOR ACADEMIC YEAR 2023– 2024
| | | |
| --- | --- | --- |
| Grade | Year | Age |
| Pre-Kg | 31/8/2018 | 3 Years |
| KG1 | 31/8/2017 | 4 Years |
| KG2 | 31/8/2016 | 5 Years |
| GRADE 1 | 31/8/2015 | 6 Years |
| GRADE 2 | 2014 | 7 Years |
| GRADE 3 | 2013 | 8 Years |
| GRADE 4 | 2012 | 9 Years |
| GRADE 5 | 2011 | 10 Years |
| GRADE 6 | 2010 | 11 Years |
| GRADE 7 | 2009 | 12 Years |
| GRADE 8 | 2008 | 13 Years |
| GRADE 9 | 2007 | 14 Years |
| GRADE 10 | 2006 | 15 Years |
| GRADE 11 | 2005 | 16 Years |
| GRADE 12 | 2004 | 17 Years |