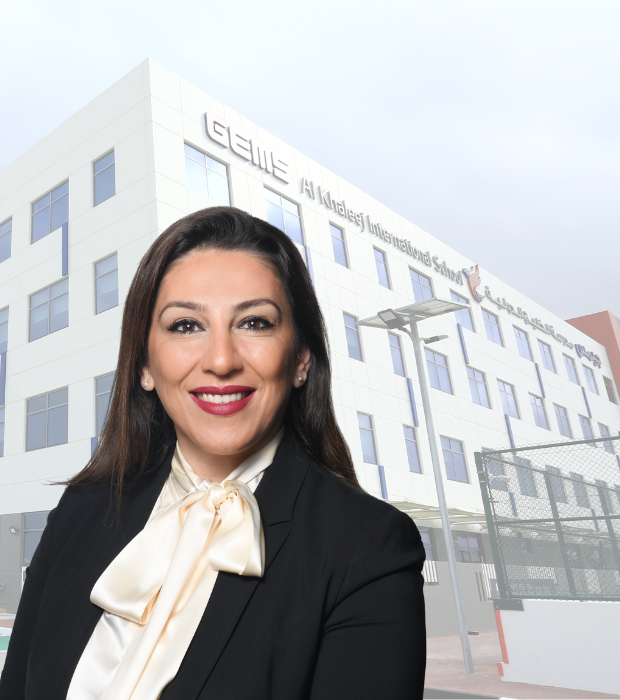 Welcome message from the Superintendent / CEO
Ms. Ghadeer Abu-Shamat
Dear GEMS AKIS Families,
On behalf of AKIS community, I would like to welcome all our new families to AKIS to allow you a chance to get to know what makes AKIS a very special place for students and families.
At AKIS, we strongly believe in fostering an effective partnership between the school, parents, and the community, which is crucial to moving the school forward to achieve its vision and goals. AKIS is committed to becoming one of the finest schools in Dubai in terms of the quality of teaching and learning and students' character. We are firm in our commitment to develop our students into creative, confident, life-long learners and resourceful members of society.
Having experienced, highly skilled, and innovative teachers on board, enriches the learning and teaching process at AKIS. Our teachers empower our students to lead their own learning in order to exceed their academic potential as well as achieve their social, emotional, and physical development targets.
With our relocation into the new building, our slogan for this academic year, "Steps to Outstanding" carries a truly deep manifestation for all of our school community. Our brand-new building is equipped with state-of-the-art resources, which ensures that our students have access to world-class facilities to spark their imagination, creativity, and innovation. While our building may be new, our passion, commitment and care for our students' learning stems from a legacy of many years of successful learning and teaching at AKIS. With this renewed enthusiasm, we are forevermore committed to nurturing our students' creative impulses in a new and productive environment.
To reflect our continued growth and productivity, I want to emphasize on some great things we have achieved in 2021-2022 "The start of something great', we opened our doors to receiving students in Pre-Kindergarten to ensure that AKIS students are starting their learning journey with us as early as possible. Additionally, we started with a new name "GEMS Al Khaleej International School" reflecting our school's international pedagogical practices, our NEASC accreditation and our status as a fully authorized U.S. Curriculum school since 2018. I am sure you will agree that GEMS Al Khaleej International School also better reflects the diversity and multicultural nature of our student body, made up of 64 different nationalities. Hence, we are now CIS members.
As an accredited U.S. Curriculum school, AKIS offers its high school students an opportunity to enroll in a wider range of College Board Advanced Placement courses. With diverse options for AP courses, high school students at AKIS are able to show their proficiency in their areas of interest to reputable universities and colleges around the world allowing them more flexibility to decide for their future college destinations.
AKIS is all geared up to offer the required time and support to all of its school community. Parents, as an important partner in the triangle of learning, are requested to ensure effective communication with the school and academic supervision of your child at home. Your positivity and celebration of your child's progress, no matter how big or small, will enhance his/her confidence and motivate him/her to progress further. I assure you that your active involvement in his/her education will go a long way in achieving his/her set goals.
I am confident that this year is another year of success and achievements for AKIS community, as evidenced by our legacy. Thank you for instilling your confidence in AKIS team to ensure your child's overall well-being and welcome to AKIS.
Sincerely,
Ms. Ghadeer Abu-Shamat
Superintendent / CEO