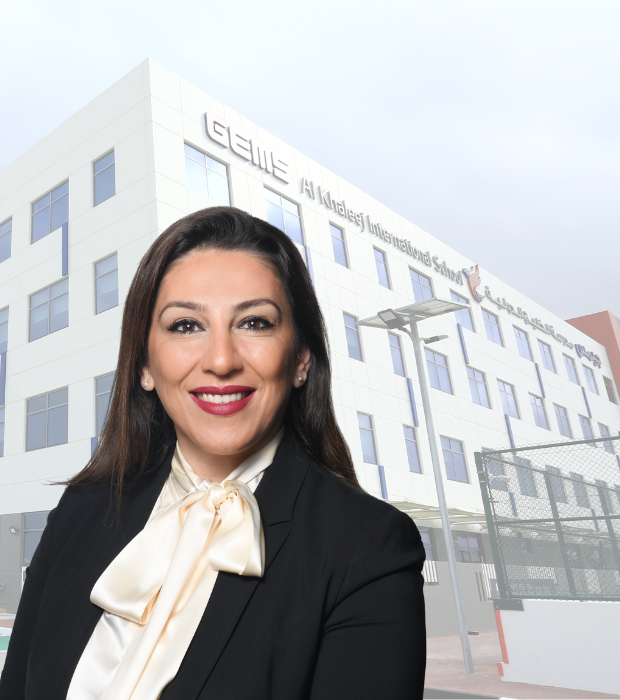 Welcome message from the Superintendent / CEO
Ms. Ghadeer Abu-Shamat
Dear AKIS Parents,
Welcome to AKIS family!

With GEMS AKIS relocation to the new building, and our goals that we are setting for 2023-2024 our slogan for this academic year is, "Steps to Outstanding" that carries a truly deep manifestation for all of our school community.
Our brand-new building is equipped with state-of-the-art resources, which ensures that our students have access to world-class facilities to spark their imagination, creativity, and innovation. While our building may be new, our passion, commitment and care for our students' learning stems from a legacy of many years of successful learning and teaching at AKIS.
With this renewed enthusiasm, we are forevermore committed to nurturing our students' creative impulses in a new and productive environment to become an outstanding school in the coming few years.
I am proud to share that AKIS has moved 28 parameters up in the recent KHDA DSIB inspection on November 22. The SEND was rated "very good," indicating our teachers' positive impact on supporting our students. More than 50% of the judgments are very good or better. This inspection's outcomes are another milestone in our transformational journey, which started in 2015. As I always say "Never Underestimate a School with Passionate educators
Sincerely,
Ms. Ghadeer Abu-Shamat
Superintendent / CEO